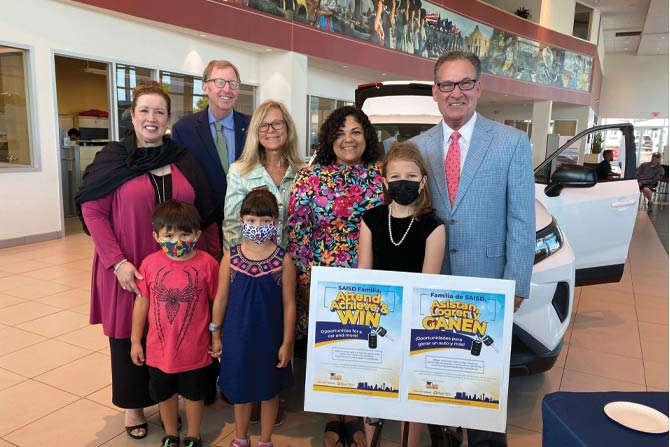 "I am very proud that Cavender Toyota and Frost Bank teamed up to incentivize students in the SAISD to strive for perfect attendance this new school year. Presented by the SAISD Foundation, our program is called "Attend Achieve and Win." Students will win prizes leading up to a Grand Finale Event next June, where we will honor a student and their family with a brand new Toyota RAV 4!
Thanks to my friends Pat (pictured here along with SAISD friends and students) and Don Frost for inviting us to participate with them equally in this outreach."
Rick Cavender
Bird Kultgen Ford Commemorates Breast Cancer Awareness Month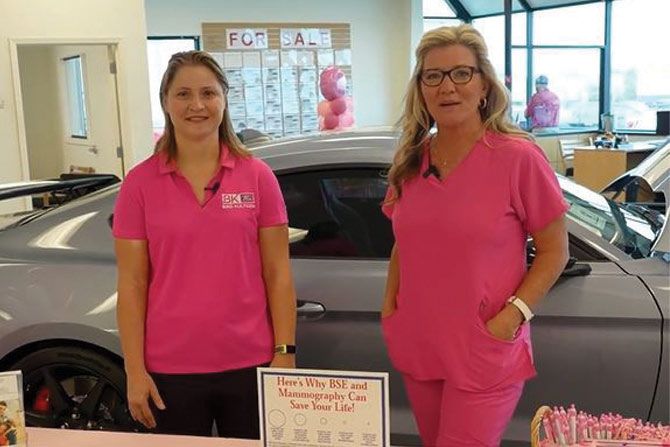 Bird Kultgen Ford of Waco offered more than just vehicles; they provided free mammograms to the public. This was the third straight year the dealership offered free breast cancer screenings. They partnered up with Baylor Scott & White Health Center in Hillcrest to run the campaign which began on Friday, Oct. 7, and runs through the end of the month.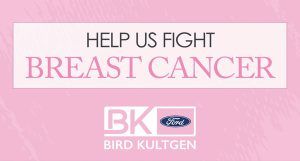 Rush Enterprises Doing their part to support Breast Cancer research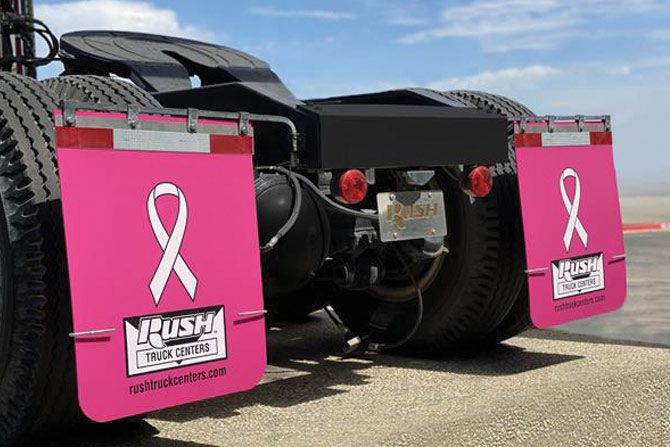 Rush Enterprises, Inc., which operates the largest network of commercial vehicle dealerships in North America, is offering limited-edition pink mudflaps to raise awareness for Breast Cancer Awareness Month.
The pink mudflaps, which feature the Rush Truck Centers logo and iconic ribbon, are available at all Rush Truck Centers locations throughout October. For every mudflap sold, Rush Truck Centers and mudflap manufacturer Roechling Industrial Gastonia will donate $4 to the Breast Cancer Research Foundation.
"We are honored to help raise awareness for breast cancer by offering this mudflap to our customers and by displaying it on our own company vehicles," said W.M. "Rusty" Rush, Chairman, Chief Executive Officer and President, Rush Enterprises, Inc. "Breast cancer has impacted the lives of many of our customers and employees, and we are proud to support an organization doing important work to save lives and improve outcomes," he added.
The Breast Cancer Research Foundation aims to prevent and cure breast cancer by advancing the world's most promising research. Since 1993, BCRF-supported investigators have been deeply involved in every major breakthrough in breast cancer prevention, diagnosis, treatment, metastasis and survivorship. There are more than 3.8 million breast cancer survivors in the U.S., and deaths from breast cancer have declined 40% since 1989. More than 44,000 lives are lost to the disease each year.
The pink mudflaps come in three sizes, designed to fit all makes and models of commercial vehicles. They are .16" thick virgin UV-stabilized polyethylene resin with a smooth finish, curl-resistant and durable yet flexible and manufactured with pre-drilled holes for easy installation.
Rush Truck Centers has already raised more than $9,000 dollars for the Breast Cancer Research Foundation by selling limited-edition graphic tees to its employees and customers throughout the United States.
Leukemia & Lymphoma Society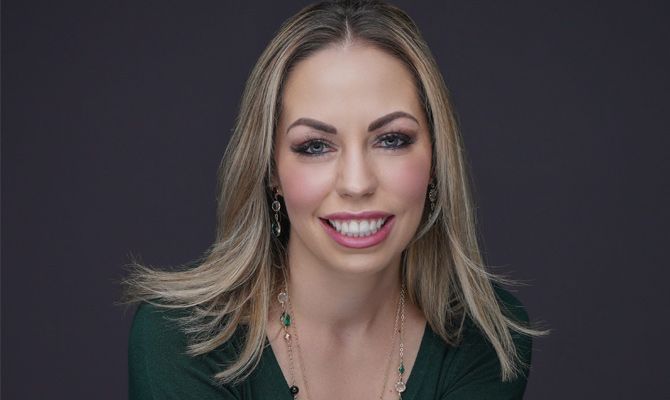 Natasha del Barrio of Bert Ogden Rio Grande Valley is the Leukemia & Lymphoma Society-South Central Texas' Woman of the Year Runner Up. Natasha and her team, Driving Forward for a Cure, raised over $840,100 for blood cancer research during their 10-week campaign.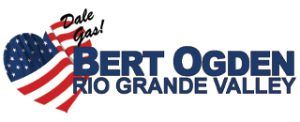 Dealers Kirby Janke and Kyle Janke are pictured with Trophies that were awarded at the Bronco Outdoor Adventure Rally for Best of Show, Best Paint, Best Extreme Offroad, Best Display, and Best Lighting.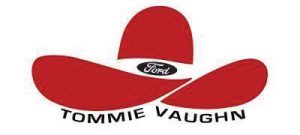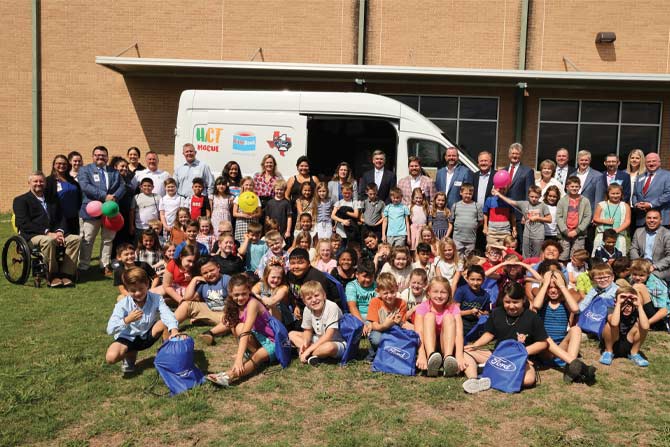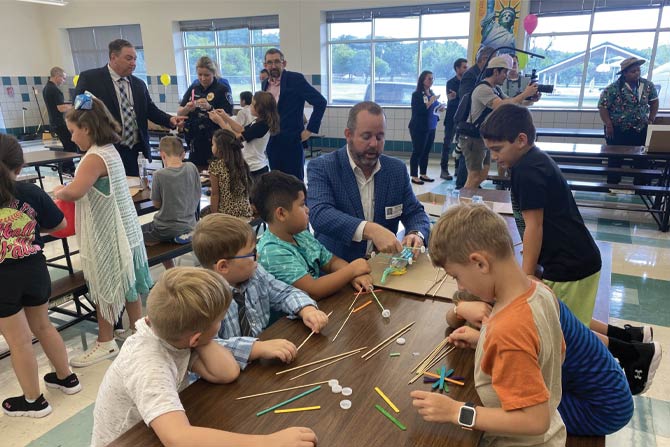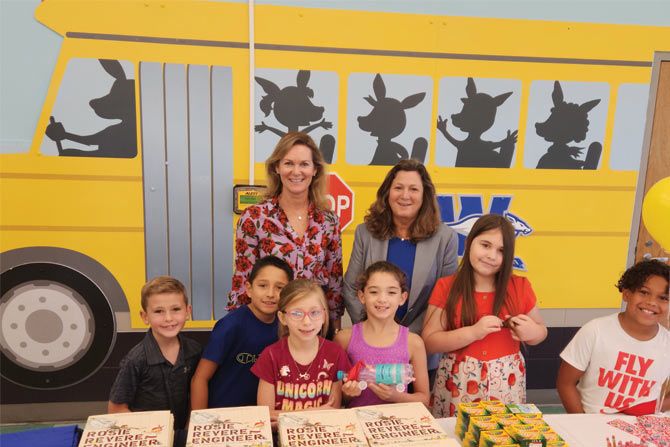 The Ford Motor Company Fund and the North Texas Ford Dealers have a long history of community involvement, working to empower Texans to make their lives better and strengthen the communities where they live.
On Aug. 29, 2022, Elena Ford, Ford Motor Company Chief Customer Experience Officer, the Ford Fund, and the North Texas Ford dealers working with the nonprofit First Book hosted an event at David Crockett Elementary in Weatherford to increase access to books, boost opportunities for literacy and encourage STEAM education for children in underserved communities.
Literacy Instruction for Texas believes that in 12 years, more than one million people — 30 percent of Dallas County's projected population — could be illiterate. The issue becomes even more urgent in light of Texas workforce projections that suggest over the next decade, most jobs in the state will require strong STEAM skills. Texas is expected to have the second-highest percentage of future STEAM job opportunities in the nation.
To help bridge the literacy gap, the initiative hosted
today includes:
Distribution of STEAM-related books. The Ford Fund began working with First Book in 2015 to provide books to youth across the U.S. By the end of 2022, the Ford Fund will have invested over $750,000 and delivered more than 145,000 books in Dallas, Detroit, Houston, Miami, Orlando, Phoenix, Kansas City, Puerto Rico and San Antonio.
Hands-on participation in literacy events and other activities to engage students and encourage a love of reading and interest in the subjects of STEAM
Dallas-Fort Worth nonprofit Harvest Project Food Rescue brought its Ford mobile library, a retrofitted Ford Transit van designed to deliver fresh produce and books throughout the Dallas-Fort Worth area. The vehicle was donated by North Texas Ford Dealers and has delivered food for 4,500 local families since June of this year.