Lost Pines Toyota, Bastrop, TX
Two of our employees were recently awarded the TLMODA Scholarship.

Jesus Hernandez – Certified T-TEN Technician
Elizabeth Coats – Accounting Member
We are starting this year out by celebrating milestones. Today, we add another one to the list by announcing TLMODA Scholarship winners, Jesus and Elizabeth. Congratulations! We commend your dedication to #LostPinesToyota and hope you will continue to strive for professional growth within the automotive industry.
Jesus Hernandez – Certified T-TEN Technician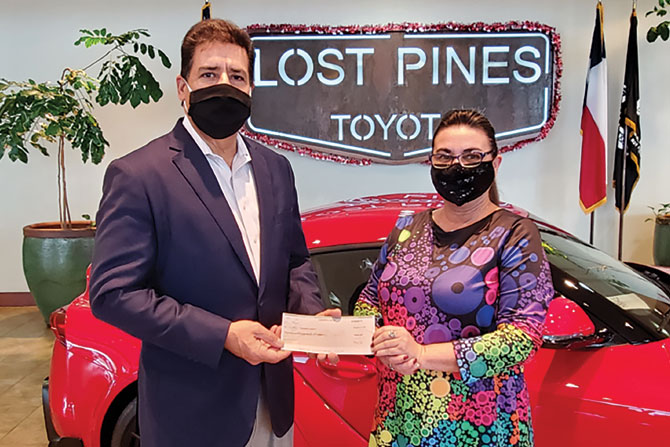 Elizabeth Coats – Accounting Member
NORTHSIDE AUTO GROUP DONATES $22,2OO TO THE SAN ANTONIO FOOD BANK
In the month of December, Howard Herman, VP and COO of Northside Auto Group, and his team reserved $50 for every vehicle sold at their Northside Ford, and Northside Chevrolet locations. This donation, to the San Antonio Food Bank, helped provide many people with much needed no cost meals. Their efforts resulted in a gift of over $22,000 for the organization, which currently serves 120,000 individuals per week with meals as well as groceries. Mr. Herman stated, "We chose this organization because of their tireless work and the challenges so many people are facing during the pandemic. Simply put, we wanted to make sure there was a meal for everyone, every day. It's our way of saying thanks to a community which has been a big part of our success. We are looking forward to partnering again in 2021."
Northside Auto Group is a local, family owned and operated group of dealerships that have served San Antonio and South-Central Texas for over 25 years.
Owner Mark Woods stated, "Northside Auto Group, is always looking for opportunities to give back to the community which has supported us for so many years, and during this unprecedented time, we felt the San Antonio Food Bank was one of the best ways we could extend a hand of gratitude, and really make a difference locally."
Founded in 1980, the San Antonio Food Bank serves one of the largest service areas in Southwest Texas. Fighting hunger is their number one priority but they also serve to educate and aid in many other ways. They achieve this through a variety of programs and resources available to families, individuals, seniors, children, and military members in need. To donate or volunteer go to SAFoodBank.org.
Fighting Hunger ••• Feeding Hope!