As your OEMs make continuing commitments — and as there is an increased demand from consumers — there will be a continued demand for auto dealers to map out tailored solutions for a successful and holistic electric vehicle charging strategy. Balancing current needs with future needs comes with a variety of options and considerations, each worth assessing before taking action.
The Recommendation

In most cases, installing multiple Level 2 chargers will be the more measured, pragmatic approach. Level 3 DCFC infrastructure makes sense in high traffic locations, where the opportunity exists to monetize service to localized EV traffic. Still, while local charging traffic is likely to increase over time, usage rates across California (the largest U.S. EV market) suggest that it won't be necessary to invest in or install more than what is necessary to charge your own fleet. A more balanced approach is to opt for Level 2 chargers while also asking the right questions regarding future EV charging needs. For example, identifying opportunities for future electrical infrastructure upgrades where it makes financial sense or noting future electrical capacity where already available. Being planful for today while also mapping out your electrical and infrastructure needs for the future is going to be the best approach as dealers make moves to accommodate EVs.
Key Considerations

As EVs make their way to your lots, so too will EV chargers so that you can keep your fleets charged and ready to roll off the lot. Options are varied of course, with differing levels and vendors available. You'll want to consider the most effective way to keep your fleet charged while also accommodating your customer's growing need for charging stations. Before any decision, purchase or installation is put into motion, it's prudent to take a pause and thoroughly weigh the key considerations as they pertain to your specific needs.
Planning: A trusted energy advisor like APPI Energy can walk you through the specifics, but more broadly, dealers can start with the following:
Planning Consideration #1 – OEM requirements/specifications. If you are aiming for an allocation of EVs soon, then you should have received some sort of guidance from your OEM. If you have not yet received it, and plan to roll out an EV fleet, request available guidelines (if any). Metro stores will sell more than rural stores in the more immediate future; however, even if selling EVs isn't on your horizon, start crafting a plan for greater ease of execution when the time comes.


Planning Consideration #2 – How many vehicles do you plan on charging per day (or night)? Answering this question builds with every subsequent step. Dealers should also be asking themselves — does the number you determined include any local EV traffic (charge station stops)? There is an opportunity, from both a financial and sales perspective, in accommodating local EV traffic by becoming a charge stop.


Planning Consideration #3 – What is the electrical service voltage of your dealership? Determining the electrical service voltage will further narrow down available EV charging options.
Hardware: Charging equipment is classified by the rate at which it charges vehicles. How much energy (kWh) does the battery hold? What type of batteries are in the EV? What is the power level and output of the charger?
Hardware choices include: Level I, Level II, Level III (DC Fast Chargers)



Level I:120V, AC, SLOW speed, charging 2-5 mph of charge; Cost per unit: $1500-$5000 fully installed


Level II: 240V or 208V, MEDIUM speed, 25-70 mph of charge; Cost per unit: $4000-$15,000 fully installed


Level III (DCFC): 208v or, typically 480V, FAST speed, 175-525 mph charge; Cost per unit: $25,000-$60,000 installed (potentially much higher)


We recommend you stay away from XFC's (Extreme Fast Chargers.) These have twice the output of a standard DCFC, and many EVs cannot safely absorb their power output that quickly. Technology will continue to adapt as this industry matures.
Again, one of the first considerations you'll take heed of is: what is your OEM asking of you? Second to OEM requirements is: how fast do you need to charge vehicles and how many vehicles per day? Many of the steps outlined above come to bear on the hardware you select. EV charging technology will continue to improve and become more efficient; consequently, selecting a brand that allows for future upgrades will prevent some future expenditures. Many charging manufacturers allow for businesses to "brand" the equipment with their logo — just another factor to weigh in your final decision.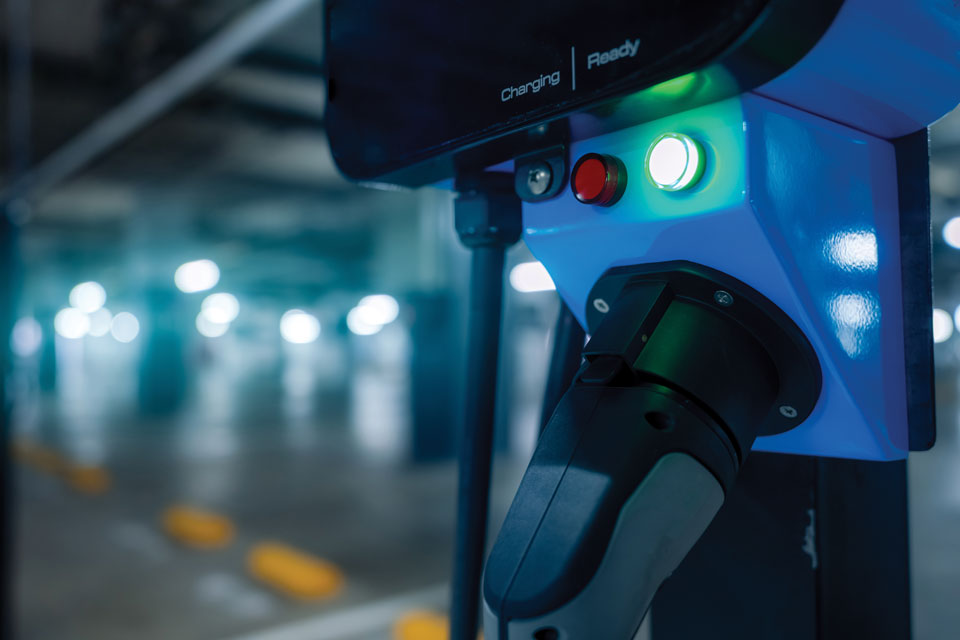 Electric Metering: Installing multiple DCFC's will often trigger the need for a new utility meter. This requires a robust design and permitting process and the selection of a suitable competitive supplier before power starts to flow; otherwise, the meter will resort to POLR (provider of last resort – this is generally expensive.) The electrical circuit required for Level I and II chargers allows for installation on-site, using existing service equipment (with typically no electric upgrade necessary). In most cases this existing electrical equipment allows the capacity to charge eight to 10 vehicles without costly electrical upgrades.
Installation: Installation will be a balance between the location of the chargers and the location of the electrical panel. A few considerations are: What is the location of the electrical service panel compared to where you want to install the charging stations? The closer to the panel, the lower the installation costs.
Software: Take into account the type of software that your dealership's charger of choice utilizes. Some chargers provide ease of use with programmable demand management capabilities, others are less functional. A few questions to pose initially are:
How will you accept payment should you choose to monetize? Currently, there is typically a 9% charge for transaction fees, and 9% shared revenue to the software provider.


What is the method of payment, RFID scan, or the ability to swipe a credit card?


Do you want to be listed on Google Maps and have travelers or local traffic stop to charge? This can cost up to $400 per charging spot per year. With this cost comes the white-glove service, including demand management visibility.


Public chargers typically charge customers by the minute, typically at a very low cost, $2-$4 per hour.
Power Supply Contract: There are countless retail energy suppliers in the marketplace, and it is best to have an official and agnostic RFP run for your specific power load/consumption to get the best price available to you. APPI Energy has 25 years of experience reviewing, negotiating, and brokering power supply agreements. We have experience contracting products specific to utility meters that are used for EVs and can assist your dealership in navigating this new terrain.
Demand Management: Another crucial consideration to keep top of mind is: how is the extra power usage going to affect demand charges, future capacity tags … and what are the available solutions? What's more, consider whether the software you chose allows for site-level demand management. Another component to avoid is coincident peaks. If cars are charging during "peak times" of the day, when the grid is stressed the most, a significant "demand" charge will be added to your power bill from the utility. There are various solutions to help mitigate this inevitable side effect; however, the options should be customized to your energy profile for the best results.
Operations and Management: The logistics don't come to a pause after installation. What happens once everything is installed and something doesn't work? Hardware or software fail? What kind of service is included by the manufacturer or network provider? Is this a full white-glove service? How long is the downtime while you wait for service?
Funding: DCFC's can cost several hundred thousand dollars if implementing more than a few of them – APPI Energy has options to assist in implementing a project at no upfront cost.
State and federal incentives: Many of the state and federal incentives require Level 2 or higher charging speeds. For example, Austin Energy offers a rebate of up to $4,000 or 50% of the cost to install approved Level 2 charging stations for businesses. Austin Energy also provides rebates up to $10,000 to hosts who want to install a DC Fast Charger.
As always, APPI Energy is here to advise TADA members and help navigate the evolving energy landscape, from the implementation of solar to the most advantageous EV charging plan. Contact APPI Energy today at 800.520.6685, info@appienergy.com, or appienergy.com.
APPI Energy is a TADA Endorsed Company.