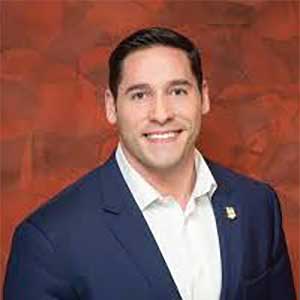 Sgt. Manuel "Manny" Ramirez was appointed during fall 2020 by Governor Greg Abbott to serve on the Texas Department of Motor Vehicles' board until Feb. 1, 2021, an appointment which is expected to be extended. The department's responsibilities include grants to reduce vehicle burglaries or theft, regulating vehicle dealers and registering vehicles.
Manny Ramirez is a native Texan who was born and raised in the heart of Fort Worth. He is a steadfast Christian and married to the love of his life, Fabiola Ramirez. Together they have three beautiful daughters, Sofia, Mia, and Penelope. Manny is an Alumnus of W.E. Boswell High School, has earned a B.S. in Criminal Justice from Tarleton State University, and an MBA from Texas Christian University. He has dedicated his life to serving a higher purpose and has protected and served our community as a police officer for over a decade. Manny has served as a Patrol Officer, Gang Enforcement Officer, Hostage Negotiator, Robbery Detective, and Sergeant.
Manny currently serves as the President of the Fort Worth Police Officers Association, where he was elected to represent over 1,700 sworn police officers. Manny manages one of the largest public safety associations in the nation and is responsible for the direction of the Fort Worth Committee for Public Safety. In 2019, Manny's leadership was critical in solving the 1.6 billion Fort Worth pension shortfall. Through those negotiations he helped craft a solution that set the fund on a path to sustainability without any negative impact on our taxpayers. Fort Worth is the only major city in Texas that succeeded in solving its pension crisis on a local level. Manny fights for taxpayers on the local, state, and national level, ensuring that public safety remains a top priority for our elected lawmakers. Manny has owned and operated a successful statewide construction business and knows that capitalism is the engine that drives our country.
Manny's blue-collar upbringing taught him the value of hard work and dedication and more importantly taught him that if you want something you have to work for it. His experience managing the operations of a successful business has taught him the importance of fiscal responsibility. Manny is dedicated to working hard to create a better future for his children, his community, and his country.
Manny is a member of Texas Christian University's Chancellors Advisory Council and the Fort Worth Chamber of Commerce. He also serves as a member of the Salvation Army DFW's advisory council and a board member for the Assist the Officer Fort Worth foundation, which helps officers and their families when they are sick, seriously injured or die. He also serves as a Republican Party Precinct Chair in Tarrant County Precinct 4. In 2018, the Combined Law Enforcement Agencies of Texas awarded him their Officer of the Year Award. In 2019 The Fort Worth Business Press listed him in its 40 Under 40 awards.
You just started serving on the TxDMV board. What are your thoughts about this new venture?


The Texas DMV is a very large and dynamic state agency. The executive leadership team is highly functioning and has articulated a clear vision and mission for the success of the agency. The policy making authority of the Texas DMV board is broad, and the business is critical to ensuring every Texan receives quality service.
I am excited by the opportunity to contribute to the effective and efficient leadership of such an important state agency. Combined annual revenues generated through the Texas DMV are over $1.8 billion. The agency uses less than 10 percent of that amount to fund its operations. The balance is remitted back to the state to help fund various initiatives and projects including roadway and infrastructure improvements.
Do you think your experience is typical of board members?


I believe that having fiscally conservative and pragmatic leadership in each of our state agencies only serves to make Texas stronger. With a commitment to eliminating waste and seeking outside of the box efficiencies I am hopeful that my values structure and experience will help move the agency forward. Each member of the Texas DMV board of directors is selected to serve by the Governor of Texas. And each board member brings a unique perspective and understanding of the functions and industries that the agency is charged with overseeing. I am honored to be joining a team of such highly esteemed professionals.
Is the agency fulfilling its mission to the public? To the regulated community?


The agency is divided into six different departments that serve the motoring public: Vehicle Titles & Registration, Motor Vehicle, Motor Carrier, Enforcement, ABTPA and Consumer Relations. In addition, the agency has in place other departments that provide critical support to these functions. Each of these departments provide critical and unique services to the public and industry.
Overall, I would say that the agency does a tremendous job of providing services to the motoring public and the automotive industry. I would also add that the partnerships that we have forged with our counties and expertise and first-hand industry knowledge that is provided by the members of the Texas DMV Board is indispensable for providing guidance to the agency in dealing with the complex matters that come before the agency.
What are the agency's future
challenges?


The Texas DMV has recently undergone Texas Sunset Commission review and is hard at work to implement many of the commission's recommendations. The Texas DMV will always strive to provide the most effective, efficient, and responsible service to all Texans. 
The Texas Automobile Dealers Association