First, a couple of things that are shaping the 2020 elections and then some details regarding Congressional races and the Texas Legislature.
What is Motivating Voters


A recent poll completed by the Pew Research Center found stark differences in how registered voters who support Donald Trump and Joe Biden view the importance of issues facing our country. In fact, of the 12 issues included, the only ones that showed a comparable level of support from both voter groups were foreign policy and Supreme Court appointments. The far-right number in the chart shows the overall percent of registered voters who say the issue is important to their vote. The red and blue points to the left show the difference between Trump and Biden supporters on the specific issue.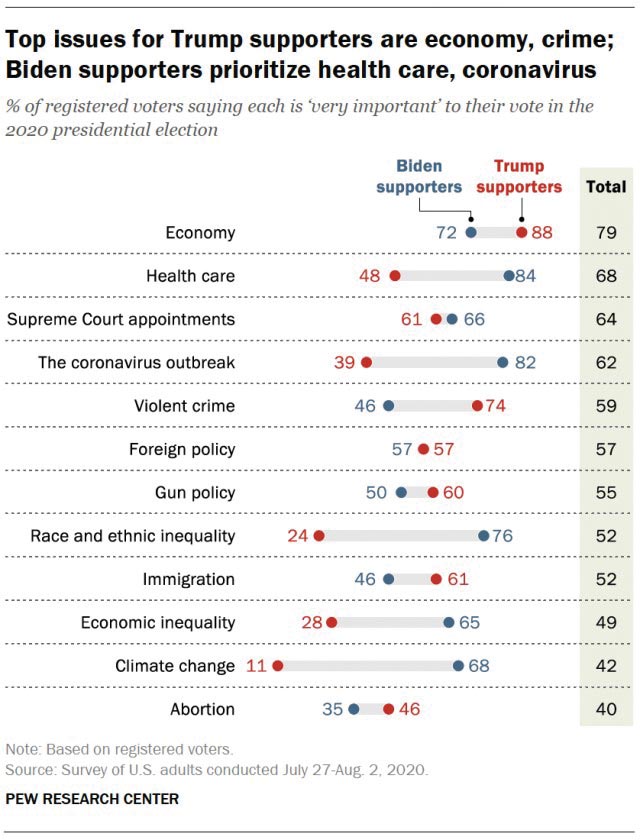 For Trump supporters, the economy (88%) and violent crime (74%) were the most important, followed by immigration (61%), gun policy (60%) and foreign policy (57%). By contrast, the largest share of Biden supporters viewed health care (84%), the coronavirus outbreak (82%), and racial and ethnic inequality (76%) as the most important to their vote.
Biden supporters were more than twice as likely as Trump supporters to say the coronavirus outbreak (82% Biden, 39% Trump) and economic inequality (65% Biden, 28% Trump) was very important. The widest gaps between the two voter groups were climate change (57% difference) and racial and ethnic inequality (52% difference).
This poll reinforces the stark differences between voters on issues of greatest importance to our country. There is a lot of enthusiasm from both groups to get the base out to vote. The question is, how will people go about voting this election cycle?
Mail-in balloting


The U.S. Postal Service finds itself in the middle of a storm called the 2020 Elections. States are still reeling from the effects of the coronavirus pandemic, and there are record numbers of Americans expected to vote by mail this year. Most states already allow some form of mail-in voting, and in 2016 nearly a quarter of all ballots were cast by mail.
There are three main ways states vote by mail. First, there are "universal" vote-by-mail states, which is when all registered voters automatically receive a ballot, but this is relatively rare. Just five states currently conduct all-mail elections by default: Colorado, Hawaii, Oregon, Utah and Washington.
Next, there are "no-excuse" vote-by-mail states, which is the most common method of voting by mail in the U.S. — 29 states currently use it in federal elections. Under this system, any registered voter can vote by mail, but must first request a ballot. In multiple states that do not regularly allow all voters to vote by mail, state officials have recently expanded voting by mail due to the pandemic or allowed voters to use the coronavirus as a reason to vote by mail during the upcoming elections. Texas is in this group, but it is also one of the states that have not expanded eligibility.
And finally, 16 states are "excuse-only" vote by mail, which means voters must explain why they can't show up at the polls to get their ballot.
In Texas, a registered voter can request a ballot to fill out at home and then mail in if they are 65 years or older, have a disability or an illness, or are confined in jail, according to the Texas Secretary of State's office. Voters who will not be in the county where they registered on the election day and during the entire early voting period can also request a ballot by mail. The primary way in which Texas has adjusted voting rules during the pandemic is by extending the early voting period. Texas is nearing the start of absentee voting for the November election. The deadline to request a mail-in ballot in Texas is Oct. 23 — 11 days before Election Day.
As was noted, many states adjusted the way people could cast their votes, either in person or by mail, due to the pandemic. So far, the results appear mixed. In Georgia, for example, a shortage of poll workers, new polling procedures and a surge in mail-in votes created delays in primary voting. Likewise, in Pennsylvania, election officials were still counting votes a week after its June 2 primary, which saw an increase in mail-in ballots and an unexpected jump in votes cast at polling stations. And in New York's recent primary, with more than 10 times the number of mail-in ballots received over recent elections, election officials were still counting absentee ballots six weeks after the election.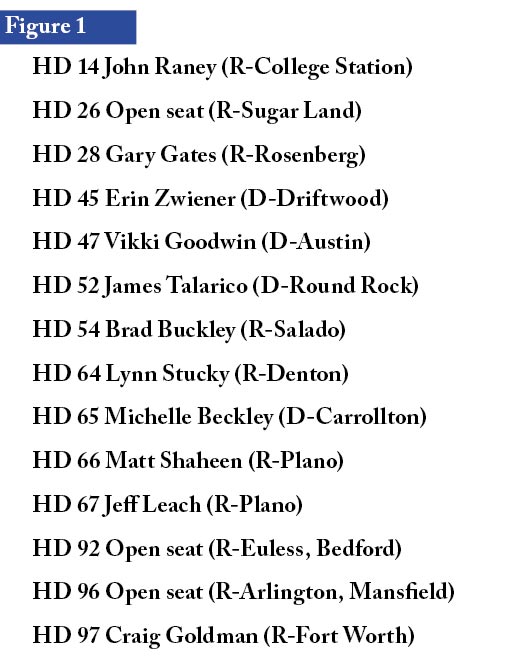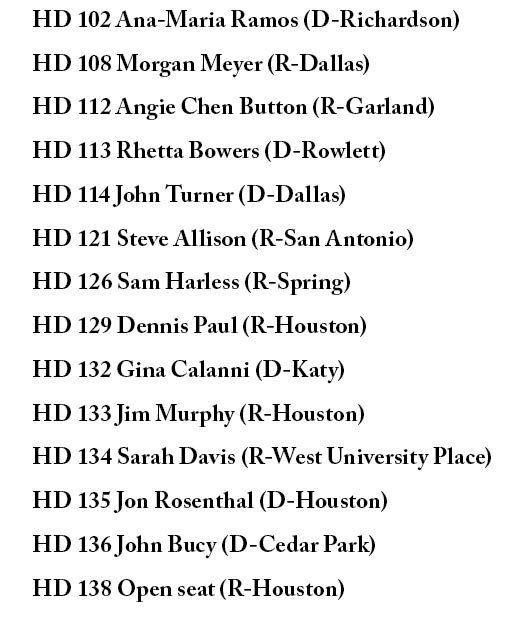 Congressional Elections


There are 100 Senators in the U.S. Senate, and while 51 is a simple majority, under current rules (filibuster/cloture), it takes 60 votes to move most legislation to a final vote in this chamber. The Republicans hold a 53-45 majority over the Democrats with two independents (both of whom caucus with the Democrats). There are 33 senate seats up for election this cycle (including John Cornyn here in Texas) and two special elections (Arizona and Georgia). These 35 seats break down into 23 Republican and 12 Democratic ones. Sens. Susan Collins (R-Maine) and Cory Gardner (R-Colo.) represent states that went for Clinton in 2016. Republican seats in Iowa, North Carolina and Arizona are also targeted, as are the two seats in Georgia. Republicans have targets of their own. Democratic Sen. Doug Jones (Ala.) represents a state that heavily supported Trump and will face a tough reelection battle. Democrats need to net three seats to gain parity with the Republicans, in which case the vice president serves as the tiebreaker. There is also some talk about an effort to do away with the 60-vote rule. Although this rule can be cumbersome and does provide the minority party with the power to hold up bills, it also serves to limit extreme positions of both parties and necessitates compromise on contested issues.
All 435 seats in the U.S. House of Representatives are up for grabs in November. Currently, Democrats hold 232 seats, Republicans' 198 and there is one Libertarian, giving the Democrats a sizable advantage. For those of you keeping score on the math, there are also four vacancies. It is estimated that Republicans will need to pick up a net of 17 seats to recapture the majority. Texas has 36 Congressional seats, and this number will grow through the redistricting process next session. The partisan breakdown is currently 23 Republicans and 13 Democrats. Texas Republicans have targeted the two seats captured by Democrats in 2018 — the 7th District in Houston (Rep. Lizzie Fletcher) and the 32nd in Dallas (Rep. Colin Allred). Still, much of their effort is focused on retaining open seats that were previously held by Republicans. The Democrats are targeting seven seats, but the most competitive appear to be in the open seats. These include the 23rd District (Rep. Will Hurd-Helotes) anchored in San Antonio and encompassing much of West Texas; the 24th District (Rep. Kenny Marchant-Coppell), which includes suburbs in northern Dallas and Tarrant counties; and the 22nd District (Rep. Pete Olson-Sugar Land) which makes up nearly all of Fort Bend County and part of Brazoria county.
Texas Legislature

The Governor, Lieutenant Governor, Attorney General, Comptroller and most other statewide officials are not up for reelection this year. The current makeup of the Texas Legislature has Republicans holding a 19-12 majority in the Texas Senate and an 83-67 majority in the Texas House.
Of the 16 seats in the Texas Senate that are up for election, only one is competitive — Senate District 19, which is currently held by Pete Flores-Pleasanton and is anchored in San Antonio, includes much of West Texas.
The Texas House is much more dynamic. After Democrats gained 12 seats in the 2018 midterms, they hope to pick up nine more seats to take the House in November. Republicans have controlled the Texas House since 2003, but 28 seats are being targeted by both groups — 18 currently held by Republicans, and 10 held by Democrats. Here is a breakdown: (see fig.1, on page 10).

It looks like the 2020 elections will be one for the ages. A lot is hanging in the balance regarding the direction of our country and our state. With so much riding on the outcome, it is important to remind people that decisions are made by those who show up! Be sure to vote! 
The Texas Automobile Dealers Association